MVD Now & Make-A-Wish Granted 3 Wishes in 2021
MVD Now and Make-A-Wish New Mexico Granted 3 Wishes in 2021
Thanks to all of our generous customers, MVD Now and Make-A-Wish New Mexico were able to grant 3 amazing wishes in 2021. Throughout the year, MVD Now's 7 locations have been accepting donations to Make-A-Wish New Mexico. Our customers have the option to round up their change to the nearest dollar or donate any other amount they wish. As of December 31st, 2021, MVD Now collected nearly $34,000 to help fund life-changing wishes in New Mexico. We could not have done it alone! We also want to thank all of our hardworking employees who consistently remind our customers of this great foundation. Our goal is to reach $40,000 by the end of 2022. Let's make it happen! Stop by any of our 7 locations around Albuquerque, Bernalillo, and Rio Rancho and donate to this great cause. Let's take a closer look at the stories and wishes that were granted thanks to your contributions.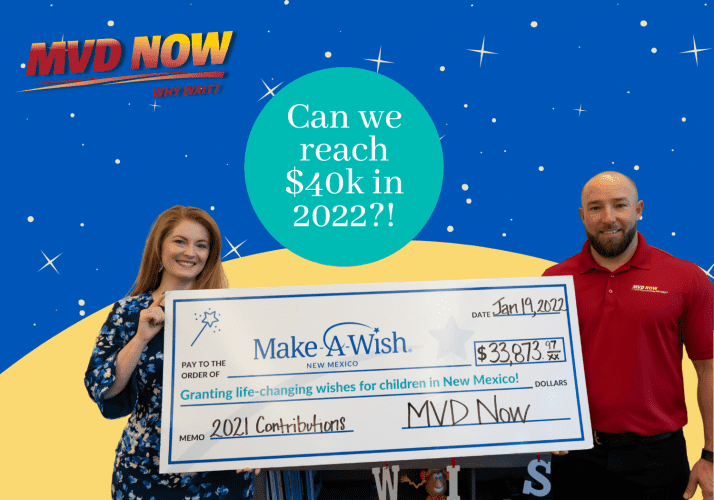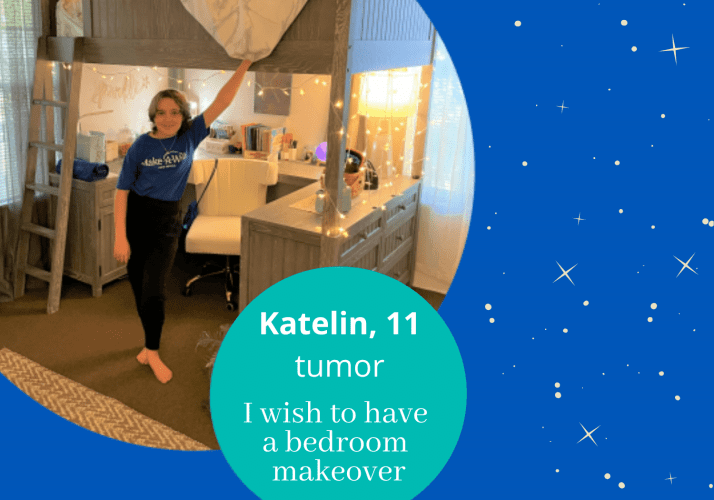 Katelin's Wish: I Wish To Have A Bedroom Makeover
Katelin's life was turned upside down when she was diagnosed with a tumor. Because of her diagnosis and treatments, she was unable to attend school in person, which caused her to spend more time at home. This left Katelin often feeling isolated, anxious, and with no control. That is when Make-A-Wish stepped in to create hope by granting a wish that would transform her life.
Katelin knew that creating her perfect bedroom space would be a wish that would provide her relaxation and joy for years to come. To help with her e-learning experience, Katelin wanted a special loft bed that created a separate space for her schoolwork. Complete with string lights, a hammock chair, and new electronics, Katelin shared that her new bedroom is better than she had dreamed of! "I am NEVER leaving my room", she shouted with excitement!
Maison's Wish: I wish to have a family getaway with a special animal experience
When Maison imagined his life-changing wish, he wished to have a family getaway with a special animal experience. His wish brought his entire family together for the first time since his diagnosis. Full of laughter, fun, and delicious family meals, his wish gave his family joyful memories.
Maison's family also enjoyed a day at a local horse stable, where he quickly fell in love with a beautiful horse named "Ace."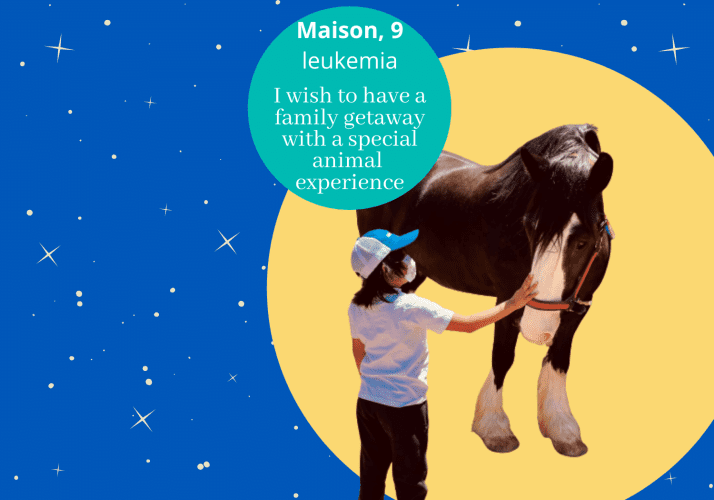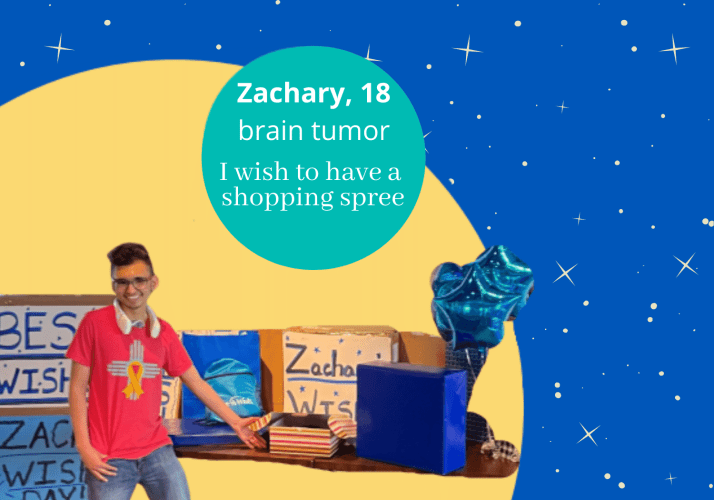 Zachary's Wish: I wish to have a shopping spree
Zachary is one of the many children whose reality unexpectedly changed when he was diagnosed with a critical illness. When Zachary was diagnosed with a brain tumor, his reality became hospital stays, doctor visits, and painful treatments. His mother shared, "Two years ago I was preparing to have to let him go, that's hard to say."
He wished for a shopping spree and the number one item on his wish list was the coveted PlayStation 5! He told his Wish Granters he understood if he could not get this item because of the high demand.
The wish granters simply smiled because they know at Make-A-Wish, where there is a whish, there is a way!
Can we reach $40,000 in 2022? Let's make it happen!
These wishes and the stories that are behind them are heartwarming. Let's grant as many wishes as we can this 2022! Stop by any of our 7 locations to donate any amount or you can also round up your total upon check out. You can also donate by visiting the Make-A-Wish New Mexico website. We hope to continue teaming up with Make-A-Wish New Mexico, granting wishes, and changing lives forever!